Why Is My Child So Angry and Defiant? An Overview of Oppositional Defiant Disorder
Forty percent of children with ADHD also develop oppositional defiant disorder, a condition marked by chronic aggression, frequent outbursts, and a tendency to argue, ignore requests, and engage in annoying behavior. Begin to understand your defiant child here.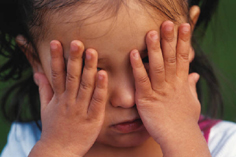 Every parent of a child with attention deficit disorder (ADHD or ADD) knows what it's like to deal with ADHD behavior problems — sometimes even the most well-behaved child lashes out, or refuses to comply with even the most benign request. But almost half of all parents who have kids with ADHD live with severe behavior problems and discipline challenges on an almost daily basis.
That's because 40 percent of children with ADHD also develop oppositional defiant disorder, a condition marked by chronic aggression, frequent outbursts, and a tendency to argue, ignore requests, and engage in intentionally annoying behavior.
How bad can it get? Consider these real-life children diagnosed with both ADHD and ODD:
A 4-year-old who gleefully annoys her parents by blasting the TV at top volume as soon as she wakes up.
A 7-year-old who shouts "No" to every request and who showers his parents with verbal abuse.
An 11-year-old who punches a hole in the wall and then physically assaults his mother.
"I call them tiny terrors," says Douglas Riley, Ph.D., author of The Defiant Child and a child psychologist in Newport News, Virginia. "These children are most comfortable when they're in the middle of a conflict. As soon as you begin arguing with them, you're on their turf. They keep throwing out the bait, and their parents keep taking it — until finally the parents end up with the kid in family therapy, wondering where they've gone wrong."
The strain of dealing with an oppositional child affects the entire family. The toll on the marital relationship can be especially severe. In part, this is because friends and relatives tend to blame the behavior on 'bad parenting.' Inconsistent discipline may play a role in the development of ODD, but is rarely the sole cause. The unfortunate reality is that discipline strategies that work with normal children simply don't work with kids with ODD.
Fortunately, psychologists have developed effective behavior therapy for reining in even the most defiant child. It's not always easy, but it can be done — typically with the help of specialized psychotherapy.
What Is the Link Between ADHD and ODD?
No one knows why so many kids with ADHD exhibit oppositional behavior. In many cases, however, oppositional behavior seems to be a manifestation of ADHD-related impulsivity.
"Many kids with ADHD who are diagnosed with ODD are really showing oppositional characteristics by default," says Houston-based child psychologist Carol Brady, Ph.D. "They misbehave not because they're intentionally oppositional, but because they can't control their impulses."
Another view is that oppositional behavior is simply a way for kids to cope with the frustration and emotional pain associated with having ADHD.
"When under stress — whether it's because they have ADHD or their parents are getting divorced — a certain percentage of kids externalize their anxiety," says Larry Silver, M.D., a psychiatrist at Georgetown University Medical School in Washington, D.C. "Everything becomes everyone else's fault, and the child doesn't take responsibility for anything that goes wrong."
Riley agrees. "Children with ADHD know from a young age that they're different from other kids," he says. "They see themselves as getting in more trouble, and in some cases may have more difficulty mastering academic work — often despite an above-average intellect. So instead of feeling stupid, their defense is to feel cool. They hone their oppositional attitude."
About half of all preschoolers diagnosed with ODD outgrow the problem by age 8. Older kids with ODD are less likely to outgrow it. And left untreated, oppositional behavior can evolve into conduct disorder, an even more serious behavioral problem marked by physical violence, stealing, running away from home, fire-setting, and other highly destructive and often illegal behaviors.
What Treatment Is Available to Manage My Kid's Behavior?
Any child with ADHD who exhibits signs of oppositional behavior needs appropriate treatment. The first step is to make sure that the child's ADHD is under control. "Since oppositional behavior is often related to stress," says Silver, "you have to address the source of the stress — the ADHD symptoms — before turning to behavioral issues."
Says Riley, "If a kid is so impulsive or distracted that he can't focus on the therapies we use to treat oppositional behavior," he says, "he isn't going to get very far. And for many kids with ADHD and oppositional behavior, the stimulant medications are a kind of miracle. A lot of the bad behavior simply drops off."
But ADHD medication is seldom all that's needed to control oppositional behavior. If a child exhibits only mild or infrequent oppositional behavior, do-it-yourself behavior-modification techniques may well do the trick. But if the oppositional behavior is severe enough to disrupt life at home or school, it's best to consult a family therapist trained in childhood behavioral problems.
The therapist should screen your child for anxiety, mood disorders, andBPD. Each can cause oppositional behavior, and each calls for its own form of treatment. The therapist may also recommend cognitive therapy for the child, to help him cope effectively with difficult situations.
How Parent Training Can Help Kids with ODD Improve Their Behavior
In most cases, however, the treatment of choice for ODD is parent management training, in which the family therapist teaches the parents to change the ways they react to their child's behavior — both good and bad. Between weekly sessions, the parents practice what they've learned, and report to the therapist on their progress.
"Basically, parent training is about carrots and sticks," says Brady. "On the carrot end, you work on giving your child praise and rewards for cooperating. On the stick end, you lay out clear consequences for misbehavior, usually involving a time-out or the removal of a reward."
Parent management training is often highly effective, with the child's behavior improving dramatically in four out of five cases. Parents who undergo the training typically report greater marital satisfaction, as well as improved behavior from their other children.
While some parents balk at the notion that they are the ones in need of training, "they have to learn how to stop getting into the arena with the child and descending to the level of squabbling," says Silver. Parents often feed the problem by delivering overly harsh or inconsistent discipline. Instead, parents must reassert their authority by setting up well-defined rewards and punishments, and then implementing them consistently and dispassionately.
"My most important rule is that parents should not take ODD behavior personally," says Riley. "Remain calm and friendly whenever you intervene. Oppositional kids have radar for adult hostility. If they pick up your anger, they're going to match it."
Riley recommends a "two free requests" approach: "The first time you ask your child to do something, give him two minutes to respond. If he doesn't obey, calmly tell him, 'I'm now asking you a second time to pick up your coat. Do you understand what I'm asking you to do, and what the consequences are if you don't? Please make a smart decision.' If you have to ask a third time, the prearranged consequence kicks in — the TV goes off for an hour, or the video game is taken away."
How Can Parents Focus On Good Behaviors?
Rewarding good behavior or punishing bad behavior isn't a revolutionary concept, but with oppositional kids, it's easier said than done. Parents must rein in their impulse to yell or spank. At the same time, they must learn how to substitute "non-aversive punishments" such as time-outs or the loss of privileges.
Many parents of oppositional children are so focused on bad behaviors that they've stopped reinforcing positive ones. Yet positive reinforcement is the heart and soul of parent management training.
"Invariably, parents come to treatment with the idea of suppressing, eliminating, or reducing problem behavior," writes Alan Kazdin, Ph.D., in Parent Management Training, a manual for therapists. But according to Kazdin, director of Yale University's Child Study Center in New Haven, Connecticut, parent training emphasizes the concept of "positive opposites" instead. "For example," says Kazdin, "parents are asked what to do if they want their child to stop screaming, slamming the door, or throwing breakable objects. The answers involve reinforcing talking quietly, closing the door gently, and handling objects with care and not throwing them."
Kazdin maintains that helping parents learn to praise good behavior is one of the toughest challenges therapists face. He says parents are often "hesitant to praise a behavior or to use reinforcers in general because they feel the behavior ought not require any intervention. 'My child knows how to clean up his room, he just refuses to do it,' is a typical parental comment."
How Parents Can Offer More Effective Praise
When parents do offer praise, they should be enthusiastic. "An unenthusiastic statement of 'Good' is not likely to change child behavior," says Kazdin. Praise should specify the praiseworthy behavior and, ideally, include some non-verbal gesture. For example, you might say, "It was wonderful the way you played so quietly while I was on the phone!" and then give your child a kiss.
Appropriate rewards and punishments vary from child to child. The more creatively you tailor your program to your child's specific abilities and needs, the better. But as Russell Barkley, Ph.D., professor of psychiatry at the Medical University of South Carolina in Charleston, writes in Your Defiant Child, "Creativity is always an asset to child-rearing, but it can't hold a candle to consistency. Consistency in the way you treat your child — the way you set rules, convey expectations, pay attention, encourage good behavior, and impose consequences for bad behavior — is the key to cleaning up your child's act."
Never lose sight of the fact that oppositional kids usually have a great deal to offer, once their behavior is under control. "Oppositional kids are also often quite engaging and bright," says Riley. "They tend to be optimistic and very much their own person, with their own way of looking at the world. Once you work through their defiance, there's a lot there to like."
Brain Development and Executive Functioningby Katie Knapp, MSc, J. Bruce Morton, PhD Western University, Canada
Why Kids With Executive Functioning Issues Have Trouble With PlanningBy Kate Kelly
Brain Development and Executive Functioningby Katie Knapp, MSc, J. Bruce Morton, PhD Western University, Canada
Why Kids With Executive Functioning Issues Have Trouble With PlanningBy Kate Kelly
Executive Functioning – Where is it Controlled and How Does it Develop?/ emediation Techniques for Deficits and Dysfunction By : Angie McCalla , MS, CCC-SLP, CBIS