Therapy in the Real World
More and more therapists are working with kids in the settings where their problems occur: at home, in school, in public
Juliann Garey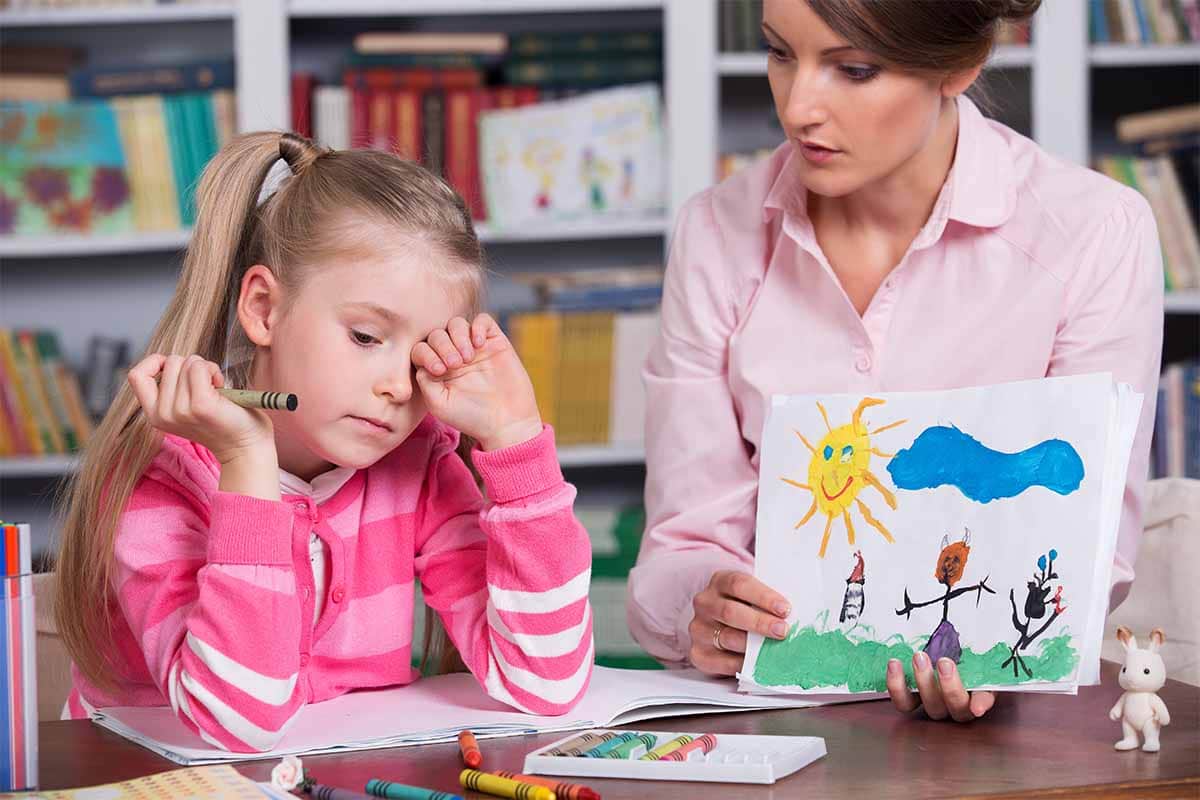 When parents imagine sending a child or teenager for therapy they're likely to envision a clinical setting with the therapist sitting across from the child, talking or perhaps engaged in some form of activity. And to some extent, that perception is accurate.
But for an increasing range of issues, including anxiety, depression, problem behavior and more, child and adolescent therapists are taking therapy out of the office and into the real world.
Sometimes a therapist works with the child and the parents together on behavior challenges in a public place like a candy or toy store. School visits allow the therapist to work on a child's behavior issues in the classroom, and help teachers and aides devise strategies to encourage good behavior.
A therapist working with an anxious child will make home visits to coach him on handling triggers there, or take him to the park, or on a bus — wherever his anxieties occur. And in some cases, phone calls are used so that the therapist can coach the patient in real time to use healthy coping skills in a stressful situation.
It might sound unorthodox, but clinicians working outside of the office can still be implementing evidence-based treatment, often in the form of cognitive behavioral therapy (CBT).
Anxious kids facing fears
CBT treatment for anxiety and OCD, for instance, involves exposing children to things that trigger anxiety and coaching them to tolerate the anxiety without escaping or performing some kind of ritual to make it go away. After doing exposures in the office, working their way from the smallest to the largest, the therapist and patient often take field trips.
"Doing exposures in the office is great and helps kids face their fears," explains Dr. Jerry Bubrick, a clinical psychologist at the Child Mind Institute. "But it can feel like a lab setting. Kids know it's not real life. It's harder to do them at home, or at school, or in the subway. It's one thing for a kid with contamination fears to touch the doors in the office, but another at Bloomingdales or on the bus. "
Evidence shows that the therapy is more effective in real settings. "When we go out of the office we see more gains — kids make more progress," adds Dr. Bubrick. "They feel more confident and motivated to keep doing exposures elsewhere."
"Exposure therapy is a gradual and systematic way of helping a person really face their fears," says Dr. Janine Domingues, a clinical psychologist at the Child Mind Institute. "I like to use the metaphor of getting a flu shot, which is like getting a small dose of the virus so your body knows how to fight it so when it actually happens your body knows what to do. You kind of cope with the anxiety rather than making it go away."
When Renee, now 15, came to see Dr. Domingues two years ago, she was, as her mother Sheila describes, "a shell of herself." Bullying at school had triggered OCD in Renee and she was absolutely convinced that she smelled, and that's why the bullies were targeting her. She stopped taking off her coat at school and even at home and, says Renee, "I spent all my money on deodorants and perfume. I think it's so silly now but I just felt like I needed them."
Sheila says Dr. Domingues was hands-on from the very beginning, not only making Renee confront the fact of whether she really did smell or whether it was something in her mind but asking, even if she did smell, was that such a terrible thing?
Dr. Domingues began by having Renee walk around the office and raise her arm near other therapists. Eventually they progressed to the point where she actually rubbed onion on Renee's wrists and took her to Barnes and Noble, Starbucks and other stores to see how people would react.
At first Renee was horrified. But she understood Dr. Domingues's methods. "The point was I smelled of something else, but it's not me. And even then people didn't really notice or if they did they didn't really react." She learned that if you eat an onion your breath might smell but that's the worst thing that can happen.
"You're not going to die from that," Sheila says. "She used to think the world would fall apart."
Four months later, Renee announced that she was ready to throw out the more than 30 different deodorants she had collected. Both Renee and Sheila credit the exposure therapy done outside the office for her recovery. "Talk therapy is great but having to actually experience it is what really works," Sheila says. "It's like skydiving. You can go through all of the procedures, but it's not until you're on the edge of that plane and you jump that you actually do it."
The therapist being right there with the child is crucial. "I don't want to sabotage a child's progress by asking him to do things unless I know he can do them," says Dr. Bubrick. "If he does it when I'm there, I know he can do it and he knows he can do it."
Field trips for disruptive behavior
When Karen and Phil Ames first brought their daughter Cecily to see Dr. Matthew Rouse when she was six, they were at a total loss as to how to manage what had become increasingly difficult behavior. "She would make mean faces, she would growl to express her frustration, it was tough to calm her down — it was temper tantrums several times a week," says Karen. "And we were all on pins and needles with all of the decisions we were making. It was affecting the whole family."
The couple began a course of what is known as parent-child interaction therapy in which the parents learn the skills they need to rein in Cecily's behavior — including setting boundaries, learning to follow-through on both praise and discipline and even how to give a "time out" in public. Dr. Rouse works with both the parents and, for some of the sessions, the child as well. But what parents learn in the office has to translate to the real world. So before they graduate, Dr. Rouse, a clinical psychologist at the Child Mind Institute who specializes in oppositional and defiant behavior, goes on outings with the parents and child to places that are likely to trigger trouble so that he can coach the parents through various real-world scenarios.
"It's the culmination of everything, right before graduation," says Dr. Rouse. "You've been teaching the parents all these skills and we're pulling everything they've learned together into a real world situation and making sure that it works."
For the Ames family, that meant a return trip to a giant candy store where Cecily had previously been out of control. "One of the first times we went there without any guidance she was running all over the store, saying 'I want this, I want that, buy me this,'" says Karen. "There was a tantrum. There was a meltdown. And by the end when we went with Dr. Rouse she was very calm. She was pointing things out that she liked. She was thoughtful in terms of saying, 'Well, I do want this gumball but I also want these gummy worms,' and instead of having a meltdown she made a decision calmly without crazy emotion and it was kind of amazing."
School visits are also part of the therapeutic process. Dr. Rouse goes into the classroom to observe and evaluate a child's behavior and then meets with teachers and aides. "We give them feedback on what strategies they can try that might help improve the child's behavior in school," says Dr. Rouse. "Then we'll go back in a few weeks and see if there's been improvement or see what can be further tweaked. It gives us a greater reach because some parents will come in and say, 'I don't know what's going on, he's fine at home and there are just all these problems at school.'"
Dr. Rouse has also provided intensive treatment to families who live outside the state, spending perhaps a week working with parents and the child eight to ten hours a day in their homes to learn the skills and being on site when things get difficult. "It can really bring things to life in a different way," he says, "because you're in the home, you're not in this kind of artificial environment."
If parents are having trouble around bedtime Dr. Rouse will be right there with them: "You say, 'Well, what time's bedtime?' Okay, I'll come at 8:30 tonight and I'll coach you through using these skills around bedtime.' "
Phone coaching as part of DBT
Dialectical behavior therapy is a highly structured therapy used to treat conditions that involve what clinicians call "emotional dysregulation," including depression, bipolar disorder and borderline personality disorder. Its chief goal is to help teens regulate their out-of-control emotions, especially when faced with stressful or triggering situations.
One unusual, and essential, part of DBT is phone coaching. In DBT group skills training kids learn strategies to coping more effectively with powerful feelings and difficult situations. Patients are asked to practice these skills at home between sessions. But they're also required to call their therapists — usually when they're struggling to use a skill to deal with something stressful and it's not working.
"So they can call the therapist and get coaching in the moment to be able to implement the skill in their natural world, if you will," says Dr. Jill Emanuele, director of the Dialectical Behavior Therapy Program at the Child Mind Institute.
The calls, which usually last no more than 10 minutes, are not meant to be a remote therapy session. They're meant to be focused on what the client is struggling with in that moment, deciding which DBT skill best addresses that problem and then implementing it.
Sometimes, Dr. Emanuele says teens are hesitant to bother their therapists, so the therapist will make appointments for them to call, even if it's just to check in. "We also encourage them to call if something really good happens. So they can share good news," she says. "But the main focus is on practicing skills in the moment and using those coping strategies — the effective ones instead of the ineffective ones, such as self-injury."
Dr. Emanuele warns that there are many therapists who claim to practice DBT but don't include the phone-coaching mode as part of treatment. "Without every mode being present," she says, "it's not DBT."
Original Here
Juliann Garey is a journalist, novelist and clinical assistant professor at NYU. Her work has appeared in the New York Times, Los Angeles Times and Marie Claire; her novel, Too Bright To Hear Too Loud To See, was an American Library Association award-winner and NPR Best Book of the Year in 2013.
Anxiety in Kids: How to Turn it Around and Protect Them For Life by Karen Young
Myths About Selective Mutism by Child Mind Institute
Attention-deficit/hyperactivity disorder (ADHD) in children by Mayo Clinic Staff
ADHD and Emotions: What You Need to Know by Thomas E. Brown, PhD
Interoception and Sensory Processing Issues: What You Need to Know by Amanda Morin
How to Help Kids With Working Memory Issues by Rae Jacobson
Parents Guide to ADHD Medications by Child Mind Institute
The Most Common Misdiagnoses in Children by Linda Spiro, PsyD
How to Spot Dyscalculia by Rae Jacobson
Post-Traumatic Stress Disorder Basics by Child Mind Institute
How to Help Anxious Kids in Social Situations by Katherine Martinelli
Anxiety in the Classroom by Rachel Ehmke
The Benefits Of Unsupervised Play Will Make You Want To Back Off Your Kids' Activities In A Big Way by Katie McPherson